UPCOMING EVENTS WHAT'S NEW
The establishment of Shri Shakti Degree College in a village of educationally, socially and economically backward area, is a matter of great pleasure and pride for me. This is the area where many boys and girls particularly coming from poor class belonging to SC/ST Category, Minority and OBC (below creamy layers) were completely deprived off from the right to avail higher education. But now, with the establishment of this college as a boon to the children of above category, the dream of everybody, rich and poor, advantaged and disadvantaged would prove to be true.
The institution has determined its vision that may be called as a long term end result or a long- term plan. At the same time, institution has also prescribed certain measures through which long term- end result can be achieved. Institution is of considered view that if institution is not in a position to produce the students who can get the employment of their choice and who cannot meet the expectations of national and international employment market, such institutions would not survive for a long period. An element of commercialization is not going to be tolerated by the community and nation any longer and very soon a situation will come when institutions with no quality or with poor quality will have to go from the scene and ultimately survival of the fittest would win over commercialization.
Institution is a part of the society and it should not be forgotten that more and more attachment not only with staff and students but also with society representatives would attract more and more community attention for quality relationship with the institution.
Institution should create an environment wherein let people feel that this institution is the only institution where everybody feels nearest and dearest to everybody as in family. This would be very important step towards the achievement of end result of institution.
"Inclusiveness" is the need of the time. UGC is also suggesting to introduce and encourage the concept of "inclusiveness" For that purpose, institution must establish a separate cell to look after the interest of SC, ST, OBC (Below Creamy Layer), Minority and other disadvantaged category.
Therefore, let us pledge unitedly to work together to achieve the vision of the institution within a prescribed period to be evaluated by all stakeholders every year.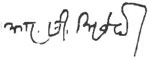 (R.C.TRIVEDI)
M.Com, LLB, CAIIB
Ex Director Bank of Baroda